Branding, and what that is, is a mystery to a lot of people (sometimes, even those in the industry).
Branding in Asia
While I have my ideas and opinions on this matter, I'm much more interested in sharing some of the branding I've come across in Asia, home of the master copier, creating billions of fake or knock-off goods year-round. And don't get me wrong, I'm not actually knocking this activity because sometimes I don't personally believe in the monetary value of a brand when I know the actual production costs (another advantage of being based in Asia).
Fakes in Asia
One thing's for sure – sometimes you really can't tell when you're picking up a fake. I had a Nokia cellphone for a full year – with constant glitches, which I put down to cheap, modern technology ("nothing is made to last nowadays, not like in the good old days"). It was only when I was trying to sell it on in Sham Shui Po (深水埗) that I learned it was actually a fake. I guess I should've noticed the slightly wonky Nokia logo on the back and the fact that the megapixel label by the camera lens was a little different to my old phone. Or, you know, that the shiny black peeled off in about a week to reveal a dull black underneath and that the phone never really worked properly.
Shopping for fakes
One thing to look out for if you think you're buying a fake, is whether or not it's worth the money. Ok, this might sound obvious, but if you're buying a pair of New Balance for your eight-year-old and you think they might be fake, you might also be in luck – because they might have been made at the same factory, making them more of a "knock-off" or "back-of-a-van" purchase. But if you're buying a tech device and you're paying full price, you can pretty much guarantee that they've saved somewhere, and that the device won't work as well as you'd expect.
An even bigger problem with shopping in Asia, is that sometimes even a shop can be a fake. For example, Mongkok (旺角) is scattered with Nike, Reebok, Adidas and Converse shops. But for the most part, these are just shops with logos pasted on the front – not official stores – which doesn't make it any easier when you're trying to figure out if what you're buying is real or not.
So, if you're thinking of buying something (and especially if you don't want anyone to know it's a fake), make sure you intimately know every detail of the original, the finish, the combination of colours available, which logo goes where, what trimmings there are. Be prepared to sometimes pay quite a lot, but do yourself a favour and avoid paying the asking price of the real item – oh, and if you're feeling paranoid, check the branding of the store.
One of my favourite's is this New Balance store, complete with a cockerel sign.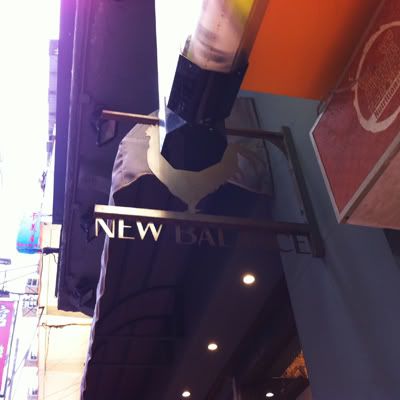 And it's not just stores you should check the branding on – I love this Snoopy/ Mickey Mouse bag too:
At least you can get all your favourite characters on one item.
But this is probably one of my true favourites – a fake pretending to be nothing other than a fake, no questions asked.