In building interest, excitement and support of the West Kowloon Cultural District, Mobile M+: Yau Ma Tei (西九龍文娛藝術區) is the first in a series of nomadic exhibitions, curated by M+, the new museum proposed for visual culture.
The series of exhibitions include seven Hong Kong-based artists: Leung Mee-ping, Erkka Nissinen, Pak Shueng-chuen, Tsang Kin-wah, Yu Lik-wai, and collaborators Kwan Sheung-chi and Wong Wai-yin. Works can be viewed from May 15th to June 10th, 2012 and there are various artist talks throughout.
It's no surprise that the proposed district needs to build interest, excitement and support because the project has been sprinkled throughout the news for years, with various issues from proposals to planning. The first proposal in 2006 was overturned due to lack of planning and bad financing models. Luckily, it seems like art, cultural activities and visiting galleries could yet become a natural part of Hong Kong culture.
I was pleased that the venture produced an exhibition app with interactive map but it sadly appears that some issues invaded the first Mobile M+ project. And it wasn't mobile. The art was static, the viewers were mobile. So while some theme seemed to fit the displays, it's not that the pieces are moved around the city, reaching a wider audience (i.e. the more lazy or heat-fearing).
Finding addresses anywhere in Hong Kong is difficult enough, especially in areas like Mongkok and Yau Ma Tei. There's less signage on street corners, numbers don't always run in apparent succession and it's hot and crowded, which can make the most intent want to give up. Unfortunately, so will using the Mobile M+ app.
Starting in Mongkok, I couldn't find the Hong Kong Reader Book Store or 68 Sai Yeung Choi St South (site 10). I can read enough Chinese to match the book store sign in either language, but still no luck. I found No. 66 – and with seven flights to walk on a hot day, I gave up.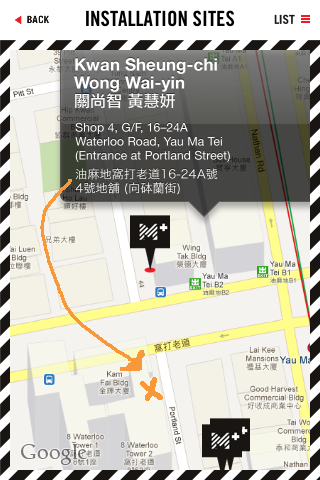 Moving on to G/F, 16–24a Waterloo Rd *enter on Portland St (site 2) to see Kwan Sheung-chi and Wong Wai-yin's collaboration, I doggedly followed the app map.
Exit B2, Yau Ma Tei. I stared at shops and numbers, I tried to spot some art, but nothing. I may have found 16 Portland St but not 16-24 Waterloo Rd. Near ready to leave, I double checked the address with my iPhone map and the site was on the other side of Waterloo Rd (X marks the spot), which you can only cross at the intersection because it's a main carriageway with cement dividers.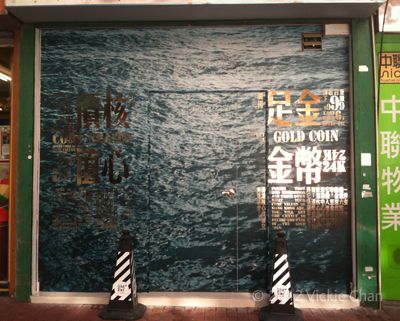 Kwan Sheung-chi and Wong Wai-yin's To Get a Gold Coin is a simple but great idea. Vote for your core values for Hong Kong and then choose whether to keep the real gold coin, or symbolically toss it into the harbour. Just the ratio of those two choices interest me, regardless of the best 'value' that's offered. It's such the Hong Kong conundrum. Preserve, love or get rich fast.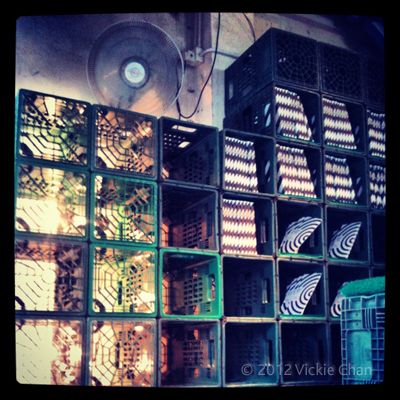 Luckily the info hub (site 1) and Yu Lik-wai's work (site 12) were opposite, in the same building as each other, on the same street.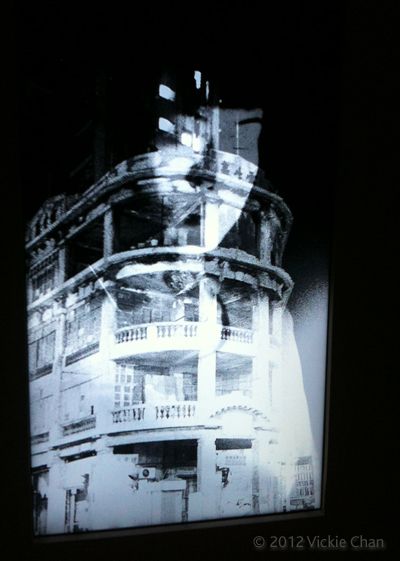 I particularly liked the use of space and Yu's dramatic use of imagery, overlapping old and new, referencing Hong Kong living spaces and people.
Also nearby on Portland St, sites 3 and 4 showed interesting nostalgia work by Leung Mee-ping. The recycling shop was perhaps my favourite, for so many reasons. The subtlety of the art work in situ, the explanations of those posters – it just fit seamlessly into normal Yau Ma Tei.
The thought of seeing his installation in the public sitting area lit at night was really exciting, but Mobile M+ finishes at 7pm, so I can only presume, those antiques aren't workable.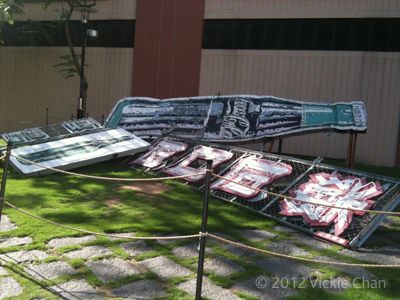 Uncle Po Bible Calligraphy (site 8) was a near miss – the TV screen was barely noticeable, perhaps because it wasn't showing Pak Sheung-chuen's work – it was blank. Wandering along to site 9 to see Pak Sheung-chuen's other work, all I could see was a white tent with fencing and chained gates, along with some Mobile M+ signage – but no art. Continuing to Kansu St to see Tsang Kin-wah's piece, I gave up. I couldn't find that one either.
While the app was frustrating to use, it's good to see digital developments and I think Mobile M+ could encourage more galleries and Hong Kong Art Fair (or Art Basel, Hong Kong) to develop apps themselves. I also wondered why the map numbered pieces all over the geographical place. Were we supposed to view them in order? Technical writers are titled as such, for a reason. Good dissemination of information.
The art that I did see from this exhibition was interesting and it's always a pleasure to see more Hong Kong artists being talked about (at #ARTHK12, I heard lots of comments about the opening night of Mobile M+). It would be nice to see a wider range of artists in the field and as time passes, hopefully we will.
For more information about the exhibition, visit the Mobile M+
site
. Use maps at own risk.