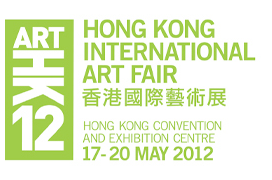 The Mandarin Oriental is the official hotel sponsor of the Hong Kong Art Fair this year. As such, not only is there a range of interesting food menus throughout the hotel, but in partnership with
Contemporary by Amelia Johnson
, the
Clipper Lounge
is also host to a specially commissioned exhibition, I Call You Nancy, by upcoming Hong Kong artist,
Tang Kwok Hin
.
Tang's work is inspired by Hong Kong, creating an unmistakably nostalgic flavour, which locates the audience exactly where Tang needs them to be in order to feel what he feels. I Call You Nancy is based around Tang's made-up stories about a real sister that his mother never gave birth to, due to China's One Child Policy. While the subject matter appears to be sad, Tang masters an uplifting feeling of sensitivity, wonder and hope.
Liking the idea that by searching on Google, he could find the same images from any IP address in the world, Tang found images online to create fake memories and keepsakes about Nancy. "I liked the idea of taking public images and making a private album," he explains.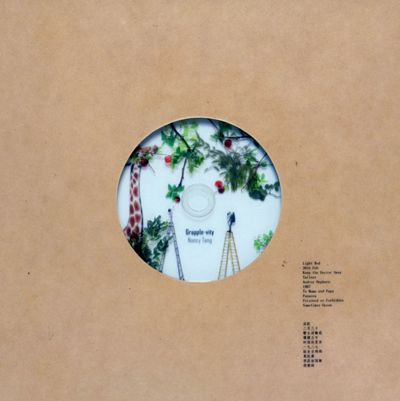 The first step in the journey is a frame full of images of 'Nancy' – but in all the images, the face is hidden or blurred. Who is Nancy? Walking through the exhibition, the audience begins to feel who she is. "I imagined she loves music, so I created these albums for her," he says. Framed in card, four sheets of glass represent a vinyl record. Images are layered in-between different layers, creating different depths and a range of blurs and illusions. Giraffes reach for the trees, leaves branch down and spacemen on ladders stretch for fruit they can't reach. The 'album' is called Grapple-vity – a combination of gravity and apple. "I wanted it to be about reaching for the sky," he explains. Which, if anything, is surely about hopeful dreaming.
Other pieces in the exhibition include a video of Tang's mother leafing through a photograph album of Nancy. He originally wanted to present the album, but the location made it impractical. In many ways, the video is more poignant, creating the real experience of Nancy. His mother cried during the filming, he says.
A stamp collection showcases images that Nancy might like, including child-like fairy tale characters like Snow White. Later, a map of the world – the one that Nancy inhabits – sandwiches unrecognisable lands between glass. Strange place names are printed on multiple levels so it's not just unclear, it's dizzying.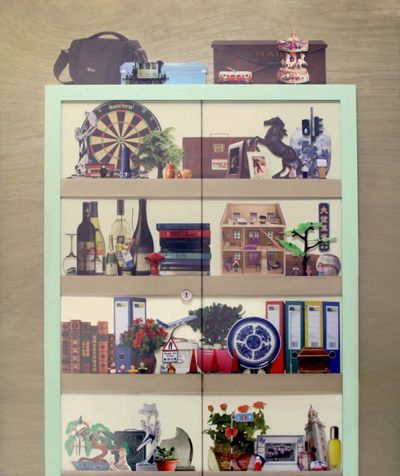 In other pieces, find different kinds of houses found around the world. Or her journeys to work and school, her different jobs. As well as being a music-lover, Tang says he imagines Nancy left to study overseas but hasn't returned, that she is a little eccentric, so he can forgive her for not contacting them. In the pieces, Nancy is always there, hidden. Another piece shows a cabinet of keepsakes and ornaments that Nancy might own – including a photo of Tang as a boy. At the end, 24 nancies collide in one piece, showing her different characteristics in one complete piece, with the backdrop of a tree and placed between wood and glass. Nature and the family tree is so strong in this piece that it's organic.
Thanks to Tang, Nancy has a life and a world all of her own. Each piece ties together different recurring elements, giving continuity in this imaginary life. "Mum tells me she would have named you Hung-jin (紅嫣). Dad still talks of the daughter he never knew. Doing this work I thought about her a lot and I feel her."
Tang was raised – and still lives – in one of Hong Kong's last remaining walled villages, Kam Tin. Aged 28, Tang was acclaimed as Young Artist of the Year by the Hong Kong Arts Development Council in 2010 and won first prize at the Hong Kong Contemporary Art Biennale in 2009. He was also selected as a finalist for the Asian Sovereign Art Prize in both 2010 and 2011 and for the international Arte Laguna Art Prize in Venice during 2011.
After looking at Tang's work, visitors can enjoy an ART afternoon tea (3pm–6pm, Monday–Saturday; 3:30pm–6pm, Sunday – until May 26th). Michelin Star chef, Uwe Opocensky, created special cakes, inspired by Tang's collaged work (and the chocolate matchbox ganache is wonderful).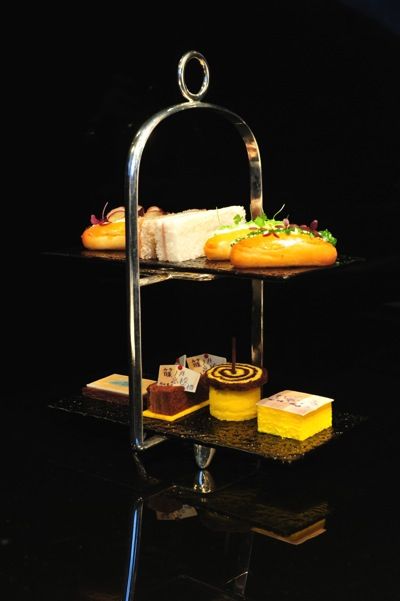 Other Hong Kong Art Fair related posts
: