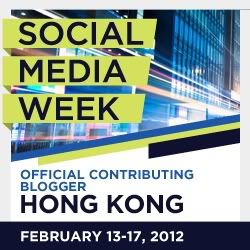 [at]SMWHK
#SMWHK
#SMWHKtv
This year's
Social Media Week Future of Television
event, hosted by Hong Kong PR Network, brings together a panel of industry experts, Jill Grinda (Vice President, Operations,
CASBAA
), Leslie Tang (the Hong Kong Correspondent for
Channel NewsAsia
, a regional TV news channel),
James Ross
(Director of Lightening International; previous Regional Director at ITN) and Doug White, Director of
PRDA
media agency). The list of topics set for examination includes the rise of web TV, second screen viewing, trans-media story telling and social TV apps, as well as Hong Kong's changing social media television landscape.
Jay's daily round-up
Before starting,
Jay Oatway
's daily round-up raises questions that put us in the mood: Where does this social information spread? How many times does it change format? How many links are via close friends? And more.
But the main theme of the day is Pepper, the rescued long-stay SPCA dog that
Ali Bullock
(
Animals in Photos
) wanted to have adopted before the end of SMW. Don't worry, she found a home (and a hashtag -
#savepepper
), by 5pm (Tuesday), in a 24-hour SMW campaign.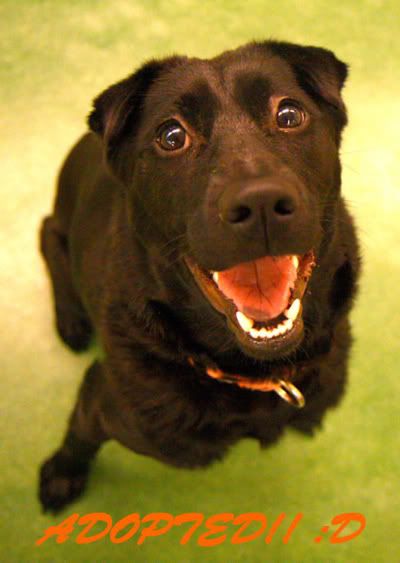 Define the future of TV
That's SMW news, not television. So, Tang starts the discussion, saying, "it's hard to define the future - there are endless possibilities. Traditional media is trying to stay relevant on a new playing field". White adds that emerging platforms leave a place for traditional medias, but consumers would find a greater range of content. "Even YouTube videos get re-posted - original placement isn't so important. Expect new viewing tools and to effect what we're viewing," he predicts.
But while these new platforms are changing the way we consume, Grinda says "TV is all about content - it's more important than how we consume it." Ross adds, "it'll be more exciting and interactive - more important. Regardless of the platform, content is important."
From YouTube to TV - and what is TV?
Have you ever seen
Annoying Orange
?
It went from YouTube to a network hit. Before answering if that's going to happen more frequently, White asks, "what is TV? It's the content not the box. Shows will be viewed through different platforms and with so many new ones, there's space for this to happen more."
So, can web-based companies outbid TV companies for shows? Grinda points out that major networks, like Time Warner, are driven by their business model: Subscription. While YouTube channels are niche, they average viewing of 15 minutes/day, while average TV viewing time (USA) is five hours. If YouTube want to make more advertising dollars, they need to up their viewing-time stats. "Can YouTube threaten major cable platforms? They need high-end content," she states, adding, "people are mindful of their business models."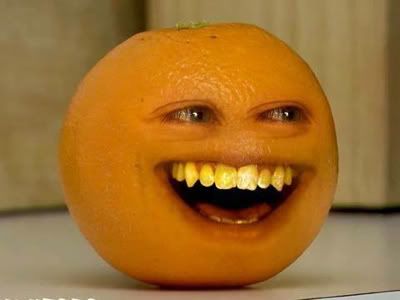 Ross adds, "no major broadcast network will go down without a fight - they have major content like the Superbowl. Networks focus on 'water-cooler' content - if you haven't seen it, you can't talk about the one thing that everyone around you is talking about." Have you ever felt left out when your colleagues were talking about a TV show? (It's why I started watching Lost, which I hated). With perfect timing, Grinda chimes in, "Obama's State of Union speech was shifted so it wouldn't coincide with last episode of Lost. Note how they didn't shift Lost!"
Time for an ad break
So we've talked about content - what about advertising? Now, most ads have various formats for different platforms. But as the ways that we access 'television' changes, this could change too. "Advertisers still mainly focus on major platforms, but as platforms grow together, I think it will all come back to a single campaign for all platforms," Ross says.
Are you checking Facebook while reading this blog?
Do you second screen view? How often do you watch TV while you're Whatsapp-ing a friend, or playing a game on your iPad? People Tweet while they watch a show - divides attention - but can this be taken advantage of? Tang, as a news anchor, makes some interesting points. "New media has made news more like a conversation. You watch TV but check social media to learn more. We can attract audiences on various platforms- shows have their own Twitter feeds, which works well for news. We can receive real-time questions for reporters on site."
Brands: product placement, great TV and Jennifer Aniston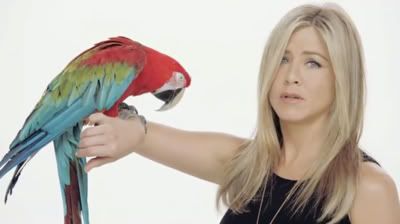 What does it take to make great TV? White has some experience creating content for himself. "We tried to do all things - humour, arty and webisodes. Product placement worked well for us, through subtle inclusion in shows. These days, viral gets you a wide audience, so you have to appeal to different people. Take the
Jennifer Aniston Smart Water advert
as an example.
But brands are reluctant to let go of the idea that it's only about them - they don't think it can be funny, or stray from the point. Brands could promote more than their product - take social good or education as an example. Typically, ad breaks are our TV break. It has to change, we're bored - advertising hasn't changed in so long. Brand messages, display ads and TV ads are still very traditional."
Or, forget the product placement, try trans-media storytelling
Perfectly, the topic of trans-media storytelling comes in here.
Cha Ching
on Cartoon Network Asia, is a short animation (10 x 3-min episodes) teaching children to be smart about money. It was made by Prudential but is entirely brand-free and has been a massive success. Harsha Harjani, Manager of Communications at Prudential steps out of the audience to clarify, "it was a CSR program for Asia. It's innovative for an insurance company - and it went well for us - it's everywhere."

We also have TV characters with life beyond TV, through social media. The Coca-cola polar bears watched the Superbowl, with a Twitter feed airing their comments on the game. Beyond that, apps created for specific shows can extend content. "An app that interacts with your show has a huge power. It will happen more and more - perhaps slower on Hong Kong's terrestrial platforms but this is all tech development. TV is still about great content, putting messages across. What changed is the tech - how we put the message across," Ross explains.
And the downside of social media is...
So, what's the down side of social media for TV? Tang has specific concerns. "With social media, anyone can act as a citizen journalist. Apparently Twitter broke the news that Whitney Houston died, before Associated Press did. When individuals spread news, facts may not be checked. Quality control in content and production as well as authenticity could become a problem." She raises an issue that Grinda brings to the table: "Piracy is a huge problem for us - we must be careful."
But it's not that simple. White asks, "what's the ground-base there? If I send an article from the Huffington Post, where am I? What's the boundary?" Since we share media so easily and often, perhaps we should all think about this. Ross gives a sensible response. "Citing!" He exclaims. "State the source. Bloomberg was small once - and quoted other sources because they had to. Our industry suffers a bit from old business models - it takes a lot of money to make great content but how can we make money from sharing content?"
After all, production costs aren't slight. Did you know that an hour of great content costs about USD $3million?
Don't forget the PR touch
Finally, there's something for the PR fans in the room. "Whatever you're pushing, it has to be interesting. Touch the viewer; give them something. Not just a flat press release or video," advises Ross. "Know your customer. YouTube are great at that, whereas a network is more likely to know the customer's address," says Grinda. White prefers to take things slowly. "I don't usually let my customers jump straight to viral. Build a little long-term loyalty first, so you know them.
Jokes keep it light but be honest and sincere or you'll be called on it." Finally, Tang adds, "be as interactive as possible, so viewers can create their own content too. In the news, we increasingly use images and video from witnesses."
With so much to go away and think about, it's hard not to be tempted to just sit and watch TV for a while.